Opt4: Markets on wheels - 3 days
This 3-day mountain bike trip takes you through beautiful countryside and intriguing villages. You will have the opportunity to observe the local minority communities at work, tending their fields in the shadow of the Chay river massif. The overnight stays in Bac Ha will give you the chance to explore the villages and visit the local market. From Bac Ha you can also visit the Can Cau market, crossing the Chay River by boat to the Bao Nhai village, where a variety of local minority groups can be found.


Day 1: Friday
You will start out from Sapa by cycling on the dramatic road leading downhill towards Lao Cai. For the next 1 1/2 hours, you will do not need to use the pedals, just concentrating on the road and enjoy the fantastic surroundings. After a short time passing the bustling town of Lao Cai, you will be again in the countryside of the Red River valley. The temperature now is much different from what you experienced earlier this morning. For the next 20 km you will be driving in lowland area, before reaching the village of Pac Ngam. Now we have a long and sometimes steep ascend to our final destination of today, Bac Ha. Should you feel tired from riding the bike, your jeep will pick you up and give you a lift to Bac Ha. You will check in a small but comfortable hotel, where you will stay for the next two nights. A cold drink, a shower and a tasteful dinner will complete this day, and make it one to remember. (L,D)
Data day 1:
Distance: 110 km
Up / straight / down: 10 km / 65 km / 35 km
Note: to shorten the day you can take jeep from Sapa to Lao Cai
Day 2. Saturday
Today is time for a special market experience: the Can Cau market. The road between Bac Ha and Can Cau is hilly but very beautiful. The ride there will take you around 1 and a half hours. The products on the market are interesting, and the many different groups of ethnic minority people represented make the market an unforgettable experience. You will spend all the morning to walk around the market exploring its magnificent chaos. In the afternoon, you will have the opportunity to visit one small village of Flower Hmong ethnic minority before cycling back to Bac Ha. (B,L,D).
Data day 2:
Distance: 40 km
Up / straight / down: 20km / 0 km / 20 km
Day 3. Sunday
You will have the opportunity to visit the Bac Ha market. The huge market is always a riot of color with its collection of ethnic peoples. Flower Hmong, Phu La, Dao Tuyen are just a few of the tribes present. All gathered here to buy and sell their products. We start out from Bac Ha by cycling downhill to Bao Nhai, where we get on a boat to have a cruise on the Chay river. It is a perfect way to finish our trip by sitting in the boat exploring the life at the riverbank. Your jeep will wait for you in Bao Nhai and take to Lao Cai Railways Station to reach the train back to Hanoi. Another possibility is to return to Sapa for more adventures holiday experiences in the mountains of Vietnam. (B.L).
Data day 3 :
Distance 15 km
Up / straight / down : 0 km / 0 km / 15 km
Note: on the entire trip you will have a supply car, which can give you a lift whenever you feel tired,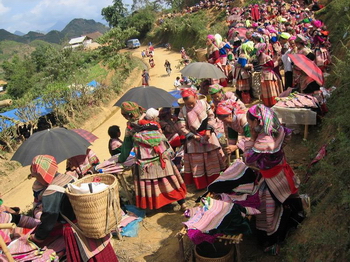 CanCau Market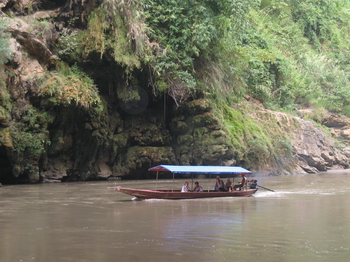 Chay River
Rate in USD per person - Valid till 30 April 2017
Except Christmas & New Year period
- Number of Persons -
| Group size | 1 person | 2-4 person | 5-8 person | 9-16 person |
| --- | --- | --- | --- | --- |
| Price per person | 484 | 325 | 286 | |
Tour price includes:
- English or French speaking guide
- Good mountain bikes (European standard)
- All indicated meals, plus snack
- Day backpack
- Water and fruit
- All entrance fees.
- Supply car / motorbike.
- Overnight in local house or tent
Excludes:
- Personal pocket-money
- Drinks (beer, Coca Cola etc.)

.