Sa Pa trekking 2 day tours
Explore the Red Dao culture 3 days
Sapa - Suoi Ho - Ma Cha - Giang Cha - Ta Phin - Sa Xeng - Ta chai Ta Phin - Sapa
Distance: 30 km
Grade: Medium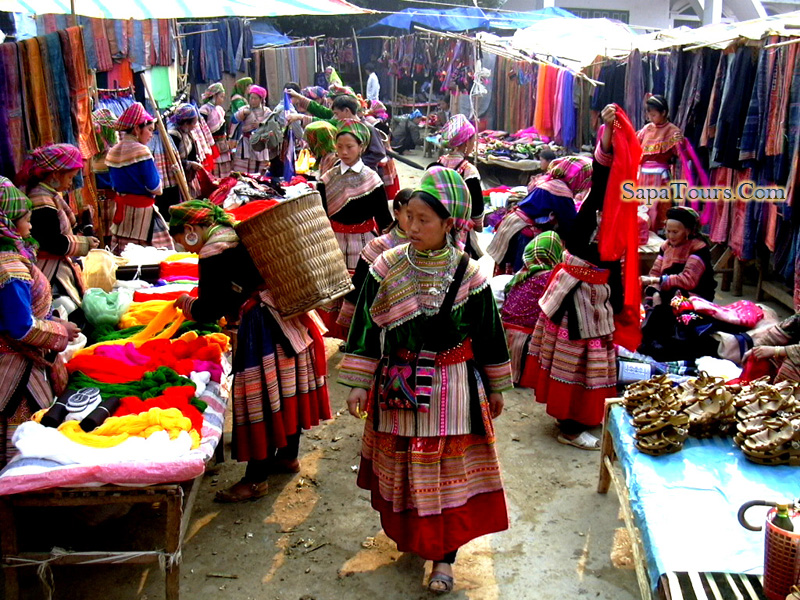 Meet both the Hmong and Red Dao minorities living in this impressive mountainous landscape.

Homestay included: Choose from :
• Mrs Phan Man May Mrs Tan May Sinh
• Msr Chao Man May Mrs Ly Man May
Day 1
As we ease into our tour with a relaxing start time of 9.30am, we depart from Sapa O'Chau Café or your hotel. It is here that we meet our friendly guide and begin the tour. Within a few minutes of walking, we bypass through the town of Sapa, and head on out to the spectacular countryside that Sapa has to offer.
Throughout this trek, we walk alongside stunning rice terraces, with plenty of picturesque opportunities. As we make our way through this countryside, we meet both the Hmong and Red Dao minorities. This is a good opportunity to chat with your guide to learn about local life for minority groups in this area. As you arrive in the afternoon at your homestay village, you will be happily greeted by the local Red Dao people. Relax with a refreshing beer while dinner is prepared on an open fire. Share a few laughs, while you eat dinner with your homestay hosts as you also experience the local Rice Wine. Finish the night with a warming herbal bath, and sleep the night away in the peaceful surroundings of the mountains.
Day 2
After a relaxing sleep, you may be woken early to the sounds of the resident rooster. If you find this is too early to rise, you may like to sleep for a few more hours and be ready to take on the day with a freshly prepared cooked breakfast around 8.30am. We wander on through to the main village, observing this beautiful landscape. Here we witness local people working in the corn fields.
Along the walk your guide will explain about the local plants, and the important uses they have for herbal medicines within this region. As we traipse on through the misty Mountains, you are provided with an opportunity to experience fantastic views, and take plenty of photos (with weather permitting, as it can change quite rapidly).
With an ascent up into the mountains, we will enter into the charming village of the
Red Dao people, where you are left to roam around independently and uncover the way of
life for the local people within this village. It is here that you can take in the scenic view of the Chinese border (Please note: As mentioned above, weather can be unpredictable. Weather conditions vary on a day to day basis). Tonight we stay in a local house, hidden in amongst the mountains in the quiet village of Ta Chai.
Day 3
We begin the day with a shared breakfast within the village. Depending on the group's preference, we have time to meet more of the local people or carry on with the trekking. As you begin the walk back to Ta Phin village, you are offered picturesque views with the layout of several houses located together overlooking the impressive mountainous landscape.
We stop and relax to enjoy a picnic lunch, followed by a traditional local Red Dao herbal footbath. Feeling rejuvenated, we begin our walk back to the local bus station, with a bus waiting our arrival to transfer back into Sapa town.

PRICE (USD/PER PERSON ) Valid to 31 Dec 2016

Pax
1
2-3
4-5
6

Price

Included :
- Lunch (every day), dinner (day 1 and 2), breakfast (day 2 and 3), 2 night homestay, tourguide, transport.
Excluded :
- Drinks, personal travel insurance, tips, drinks at homestay.
You should bring :
- Comfortable trekking shoes, sunscreen, a hat, mosquito repellent.
---------------------------------------------------------------------------------------------------------------
Giay & black h'mong homestay 3 days
Sapa - Sa Seng - Hang Da - Hau Thao - Giang Ta Chai - Ta Van - Lao Chai - Y Linh Ho - Cat Cat - Sin Chai - Silver Waterfall - Sapa
Distance: 50km ~ 55km
Grade: Medium ~Challenging
Homestay included: Choose from :
• Mrs Ma Thi Tru - Giang Ta Chai village
• Mr Binh - Cat Cat village

Day 1: Sapa - Sa Seng - Hang Da - Hau Thao - Giang Ta Chai (L,D)
The tour will start at Sapa O'Chau cafe in the morning with a short drive out of Sapa town to the walking path.
Follow a small trail, that will take you up the hill for 2 hours to the Den Thang range. Reach the top to enjoy the great view of the Fansipan Peak and the stunning Muong Hoa Valley as the trek approaches Hang Da Village - the home of Hmong which is at 1,800m above sea level and look over the Muong Hoa Valley. Discover the village and have a picnic lunch.
After a short break, we will continue walking to Hau Thao village. You will see the stunning view of Muong Hoa valley. In Hau Thao Commune, you will have a chance to discover the daily life of Black Hmong minority and their traditional customs.
Continue trekking down the hill to Giang Ta Chai village where you will sleep in a homestay of Hmong people. Your homestay is near the hanging bridge. Have dinner and
relax.
Day 2: Giang Ta Chai - Ta Van - Lao Chai - Y Linh Ho - Cat Cat Village (B,L,D)
Enjoy the dawn and fresh air in the village, have breakfast which is served by the house owner.
Start the trek by climbing the mountain on a small trail near the waterfall. Stop for a while to take photos on the top of waterfall. The trek will lead you through the bamboo forest to Ta Van village of the Giay people. Have lunch in a local house near the Muong Hoa river bank.
In the afternoon, you keep going to Lao Chai village for lunch - the home of Black Hmong people. Enjoy the view of the largest rice terrace fields in Sapa. You will continue trekking in a small trail through the rice field, mountain slope, go along the Muong Hoa river bank towards Y Linh Ho village and Cat Cat village. After arriving in Cat Cat village,
you will see the hanging bridge, Golden stream, Fairy waterfall and Hydro Electric Station that was built by the French. Take a rest at our authentic homestay at Cat Cat village. Have dinner and sleep there. This homestay is truly authentic without a western toilet and bathroom. Hot water bath is possible by boiling water over a stove fire only.
Day 3: Cat Cat - Sin Chai - Silver Waterfall - Sapa (B,L)
Today you will trek to Sin Chai village to see authentic local houses built completely with Pumu wood. Continue up the buffalo path to Silver Waterfall and have a pinic lunch and enjoy the nature view of Hoang Lien Son National Park. Explore the park around
Silver Waterfall. Hop on to our car back to Sapa O'Chau cafe.
PRICE (USD/PER PERSON ) Valid to 31 Dec 2016

Pax
1
2-3
4-5
6

Price
Included :
- Entrance fee, Transport on the whole trip, Meals (2 breakfast, 3 lunch and 2 dinner), English speaking guide, Homestay fee
Excluded :
- Drinks, Personal fee, Insurance
You should bring :
- Comfortable trekking shoes, sunscreen, a hat, mosquito repellent.
----------------------------------------------------------------------------------------------------------------
Muong hoa trek 3 days
Sapa - Cat Cat - Y Linh Ho - Lao Chai - Ta Van - Giang Ta Chai - Su Pan - Ban Ho - Nam Toong - Sapa
Distance: 38 Km
Grade: Medium; there are some more challenging sections to this trek… however this is balanced with easy legs and the chance to recuperate at the homestays.
Immerse yourself in culture and amazing scenery with this three day treks.
Homestay included: Choose from :
• Ms Thao Thi May - Lao Chai village
• Mrs Tan Thi Su - Ta Van village
• Mr Dao Van Truong - Ban Ho village
• Mr Sinh – Ban Ho village

Day 1 – 14 km
On Day 1, we will leave Sapa at 9.30am and trek down to Cat Cat village, taking in the picturesque waterfall at the bottom of the hill. After a slight retrace of steps (but not all the way back up!) we will take a turn towards Y Linh Ho and begin a 2km walk through rice terraces. Y Linh Ho is home to the Hmong minority, and their hereditary rice terraces are around 100 years old. This is a perfect opportunity to immerse yourself in true Hmong culture!
From Y Linh Ho we will make our way to Lao Chai, an established Hmong minority village which has been inhabited for centuries. See the products of this minority at its best, with established rice terraces, homes and a vibrant community. You will be welcomed warmly by Mai and her family who run the first ever homestay owned and run by Hmong minority in the Sapa region. Sapa O'Chau supported Mai in setting up this homestay and we hope it's the first of many!
Day 2 - 16 km
When you awake on Day 2, open the window and have a look outside - weather permitting - you will be treated to amazing views across the rice terraces in the valley.
After breakfast you will make your way to Ta Van where you will visit the Giay minority people. This tribe traditionally fished for a living and as a result established themselves close to rivers. They have mastered the art of fishing with bamboo sticks, and cook the fish inside bamboo. Nowadays however you are more likely to see the Giay working in fields planting or harvesting rice.
We will continue our walk through an impressive bamboo forest to Giang Ta Chai, and then on to the village of Su Pan where you will be able to rest your legs and take in the stunning mountain scenery as we stop for a picnic lunch.
Feeling revitalized we will hike the final 6km to Ban Ho village where we will spend the night at a Tay people's homestay. Their houses are particularly special as they are built on stilts overlooking rice terraces. Dinner will be cooked on an open fire, and some local speciality rice wine will be on offer to help you wind down!
Day 3 - 8 km
On Day 3, you will know when it's time to wake up when you hear the patter of feet on bamboo as the household comes alive. After a filling breakfast in the homestay we will walk 3km to Nam Toong village, home to the Red Dao minority. Providing the weather is nice you will be able to cool off with a swim in the river (and if the weather's not so nice you still can if you're feeling brave!).
Lunch will be provided back at the Ban Ho homestay, after which we will drive back to Sapa, arriving at around 3pm with a great sense of achievement!

PRICE (USD/PER PERSON )

Included:
- Breakfast (day 2 & 3), lunch (every day), dinner (day 1 & 2), tour guide, transport, homestay fee, village entrance fees
Excluded:
- Drinks, personal travel insurance, tips, drinks at homestay.
You should bring:
- Comfortable trekking shoes, sunscreen, a hat, mosquito repellent.